A Network Operating System (NOS) is software that manages and controls networking hardware, enabling the configuration, monitoring, and maintenance of computer networks. In the context of disaggregation, the NOS runs on the whitebox hardware and provides Control Plane, Management Plane and Applications. There are two primary types of NOS available in the market today:
Open-source NOS, such as SONiC, which offer flexibility, customization, and cost-effectiveness through community-driven development
Commercial NOS, like IP Infusion, Exaware, ADVA and so on which provide comprehensive support, advanced features, and vendor-specific integration, often with associated licensing and support costs.
At Pine Networks we help you select the most suitable NOS based on your specific needs.
SONiC
Enterprise SONiC Distribution by Edgecore
Software for Open Networking in the Cloud (SONiC) is an open source network operating system (NOS) based on Linux that runs on switches from multiple vendors and ASICs. SONiC offers a full suite of network functionality, like BGP and RDMA, that has been production-hardened in the data centers of some of the largest cloud service providers. It offers teams the flexibility to create the network solutions they need while leveraging the collective strength of a large ecosystem and community.
Pine Networks provides the Enterprise SONiC distribution by Edgecore, a hardened, open distribution of SONiC which runs on Edgecore Open Networking switches.
Enterprise SONiC Distribution by Edgecore can run across multiple switch platforms for 1G/10G/25G/100G/400G, including
well-known silicon solutions such as Broadcom and Intel. A choice of different silicon designs gives users freedom in their
network design.
Enterprise SONiC Distribution by Edgecore is built from the Community SONiC distribution, which has been further tested and
hardened to ensure production-ready deployment on Edgecore open networking platforms, and all changes are contributed
back to the community.
https://www.youtube.com/watch?v=XIxgDpea6ew&t=156s
SONiC Use Cases
Edgecore Networks provides a full line of open networking switches from 1G, 10G, 25G, 100G to 400G switches for use cases, such as
Data centers
Enterprises
Retails
High performance computing
To ensure the ease-of-deployment, Edgecore solutions are validated with a variety of optics and cable delivered from Edgecore as well as other industry sources. This ensures that the overall system: switch hardware, NOS and connectivity are proven to work together, removing concerns about platform level interoperability. 
IP Infusion OcNOS
IP Infusion OcNOS
IP Infusion OcNOS (Open Compute Network Operating System) is an industry-leading Network Operating System (NOS) providing the most complete carrier-grade disaggregated solution for service providers. OcNOS-based solutions have been widely deployed in access, aggregation, transport and data center use cases for simplified operations and automation. It provides extensive programmability for end-to-end network management and orchestration.
Operators can achieve major advantages using OcNOS + Whitebox hardware:
Lower TCO: Up to 65-75% savings against legacy equipment vendors
Standard Cisco-like CLI
World-class 24/7/365 support
Scale up to Terabit switching bandwidth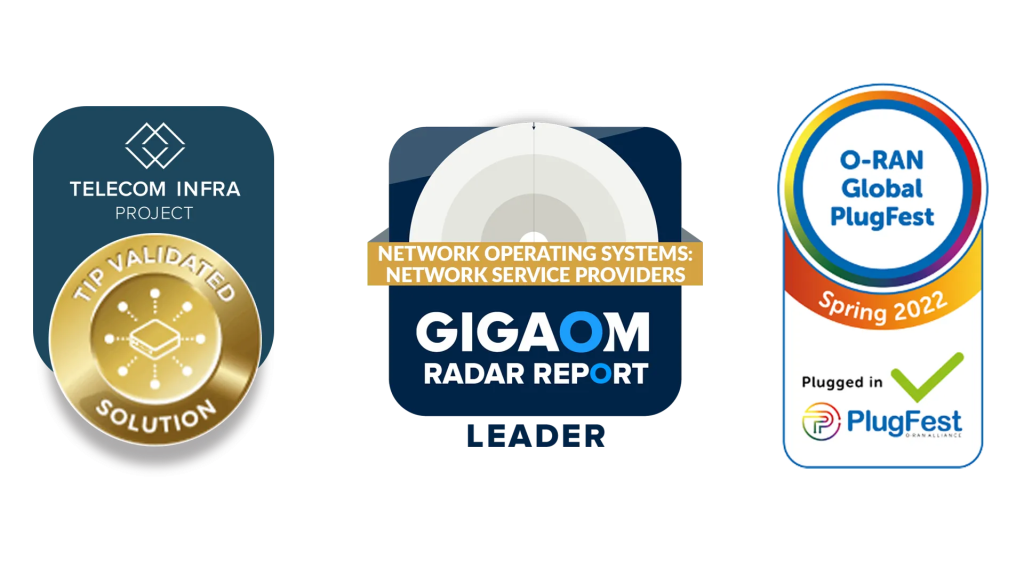 OcNOS features a single software image that runs across the entire portfolio of Open Compute platforms from leading vendors. This guarantees consistent operations, workflow automation and high availability, while significantly reducing operational expenses.
OcNOS provides industry standard CLIs, supports standard MIBs as well as the latest network management tools.
Its integrated centralized management and provisioning layer allows for transaction-based configuration and device feature modelling. OcNOS is a modular, multi-tasking NOS, with tight integration capabilities on commodity hardware. This design allows for scaled and performance critical deployments.
OcNOS works on a large number of whitebox hardware and supports multiple use cases:
Broadband Access
Cell Site Router
Provider Edge Routing
Router Optical Networking
Data Center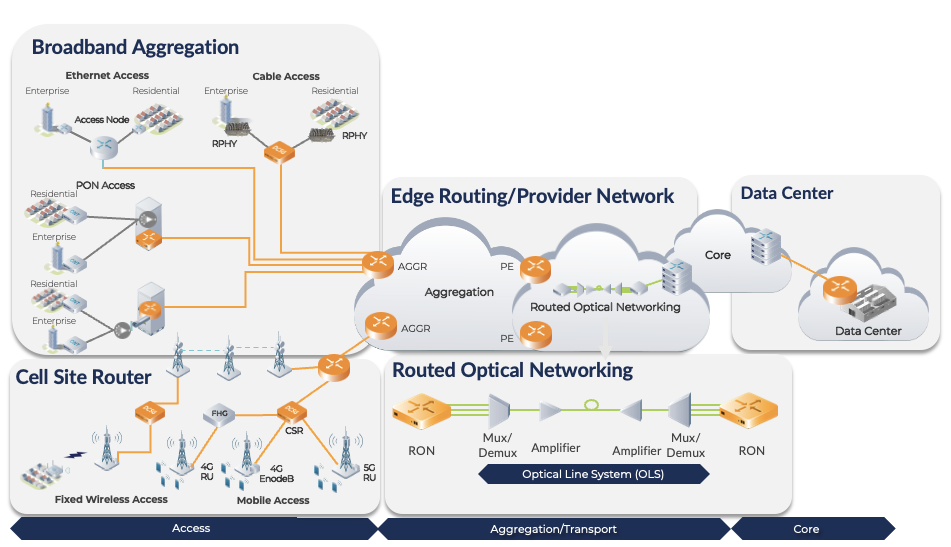 OcNOS for Datacenter
The following are key benefits of the OcNOS Data Center:
Full network migration of disaggregated networking solutions at Tier-1 Internet Exchange
Flexible disaggregated network for scaling more subscribers
Small footprint resulting from an optimized design
Efficiently aggregate traffic at scale of up to 3.2 Tbps
Proven migration for legacy services
Enables hardware independence delivering faster roll-out of new services and shorter time-to-market
Simplify operations to reduce Total Cost of Ownership (TCO)
Key features
Network transformation into a flexible and scalable fabric
Port and bandwidth scalability for Triple-play services
EVPN-VxLAN
IPoDWDM
Use cases
DC-CLOS
Multi-tenant DC (Underlay + Overlay)
BGP Peering Router
Data Center Interconnect

Download OcNOS Datacenter Datasheet

OcNOS Aggregation Router
The IP Infusion OcNOS Aggregation Router fits seamlessly with traditional services like Layer 2 VPN (L2VPN), Layer 3 VPN (L3VPN), Virtual Private Wire Service (VPWS) and Virtual Private LAN Service (VPLS). It provides advanced services like Ethernet VPN (EVPN) with traditional and next-generation transport including Multiprotocol Label Switching (MPLS), Virtual Extensible LAN (VxLAN), Segment Routing (SR) and SRv6. It allows for migration paths between traditional and next-generation transports and services.
The following are key benefits of the OcNOS Aggregation Router:
Efficiently aggregate traffic at scale of up to 4.8 Tbps
Proven migration for legacy services
Enables hardware independence delivering faster roll-out of new services and shorter time-to-market
Simplify operations to reduce Total Cost of Ownership (TCO)

Download OcNOS Aggregation Datasheet

OcNOS Cell Site Router (CSR)
The IP Infusion OcNOS network operating system-based solution supports cost optimized white-box cell site gateway devices based on and fully compliant with Telecom Infra Project's (TIP) DCSG specifications, including support for segment routing, Multiprotocol Label Switching (MPLS), and timing. This DCSG solution provides cell site backhaul networking for carriers with existing 4G LTE and future 5G mobile infrastructure. The OcNOS cell site router solution is available on a wide variety of DCSG platforms supporting varied switching capacities.
Key CSR ODM Hardware Highlights
Extremely compact, low-power design
Flexible form factors for both indoor and outdoor deployments
Highly integrated design: 1-100G interfaces, rich set of QoS capabilities, flexible management options, and integrated timing in a single box
Versatile licensing scheme to enable a range of commercial objectives
1 RU small form factor ODM hardware with depth <300mm
Front-to-back as well as side-to-side airflow
Low power consumption, minimum <100W, typical <200W, maximum 250W
Low latency forwarding
Precise frequency and phase/time synchronization using the latest industry standards
NETCONF/OpenConfig standards based management interface
OcNOS Routed Optical Networking (RON)
IP Infusion's Routed Optical Networking (RON) product portfolio provides IPoDWDM optical transport for Data Center Interconnect (DCI), metro and long-haul applications. While the aggregation network aggregates the traffics from various access networks, the Routed Optical Network routes and transports this traffic over IPoDWDM optical open line systems to remote ends of the network.
The RON solution consolidates and simplifies multilayer traditional IP, MPLS, and DWDM network architectures into a single layer IPoDWDM packet optical transport network as shown below.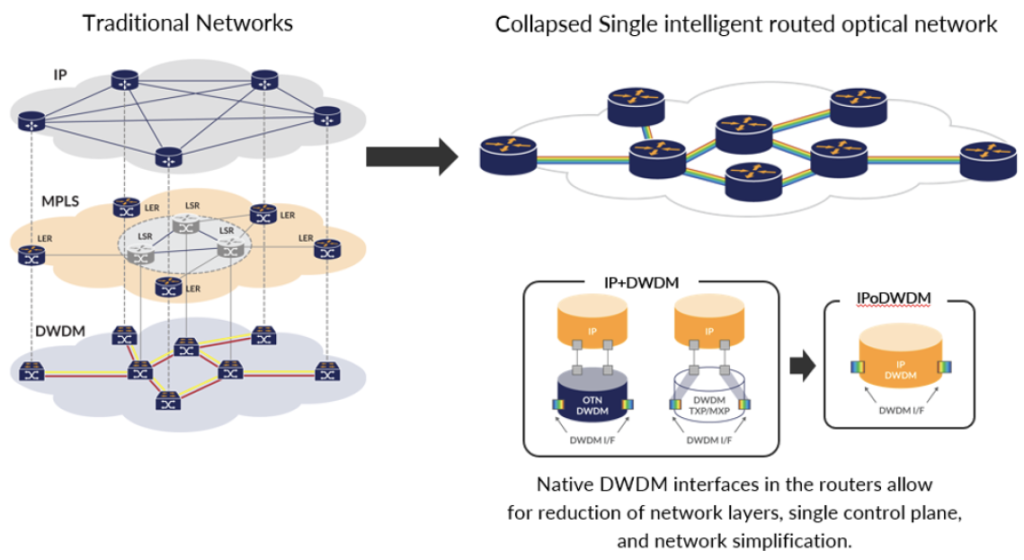 The following are key benefits of the OcNOS Routed Optical Networking:
Flexible disaggregated network for scaling more subscribers by increased capacity per fiber
Efficiency

Reconfigurable optical add-drop multiplexer (ROADM), switching traffic at λ level, reducing latency, footprint, power, complexity
Migration to FlexGrid ROADM: Support traffic volumes of hundreds Tb/s or even some Pb/s

Coherent pluggable

Service agility: Extensive use of coherent pluggable optics
Seamless migration from legacy to next gen networks

Open Routed Optical Networking

Moving from Layered Architecture to Flat Hop-by-Hop Architecture
Collapsing management plane and control plane, DWDM, RON & packet
Enables hardware independence delivering faster roll-out of new services and shorter time-to-market